WELCOME TO THE ANGLICAN PARISH OF
KIDMAN PARK AND MILE END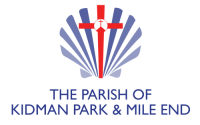 Our parish is situated within the Diocese of Adelaide and is located in the western suburbs of the City of Adelaide.
We have two worship centres.
Our newer, more modern church building (the Church of the Resurrection), together with our Parish Centre and Office is located at Kidman Park. This centre serves the surrounding suburbs of: Seaton, Findon, Flinders Park, Allenby Gardens, Beverley, Hindmarsh, Welland, Fulham and Fulham Gardens.
At Mile End we have the church of St. James. This fine old building, together with its comfortable, spacious meeting room is the location of our new venture, the fostering of a Korean-speaking Anglican congregation together with the existing congregation. St. James Mile End serves the surrounding suburbs of: Torrensville, Thebarton, Hilton and Richmond.
In addition to regular church services, the parish provides a variety of activities including: bible studies, a weekly craft group and English classes.
Find out more by browsing this web-site, or contact us for more information.
Sermons
A recording of the Sunday sermon is made each week. These recordings can be accessed here. Select the sermon you want, click headphone icon at the bottom of the page to play the recording.
Pew Sheets
A Pew Sheet is produced weekly to provide the Sunday's Bible readings and up-to-date information about parish events and activities.
For the latest Pew Sheet
click here
.
Weddings
The Church of the Resurrection and St James Church are both beautiful places in which to be married.  A marriage preparation course can also be provided.
Learn more